After you have chosen the design and your artist has finished tattooing, maintenance is a very important step on the way to getting a perfect tattoo.
Tattoo aftercare should not be taken lightly, you should know how to care of your tattoos in the best possible way. Every artist has his own way of working and his own experience based on which he advises you on how to maintain your tattoo. There are various ways to care of and protect freshly tattooed skin. In addition to your tattoo being a work of art, it is also an open wound that is vulnerable to infections and needs to be treated accordingly.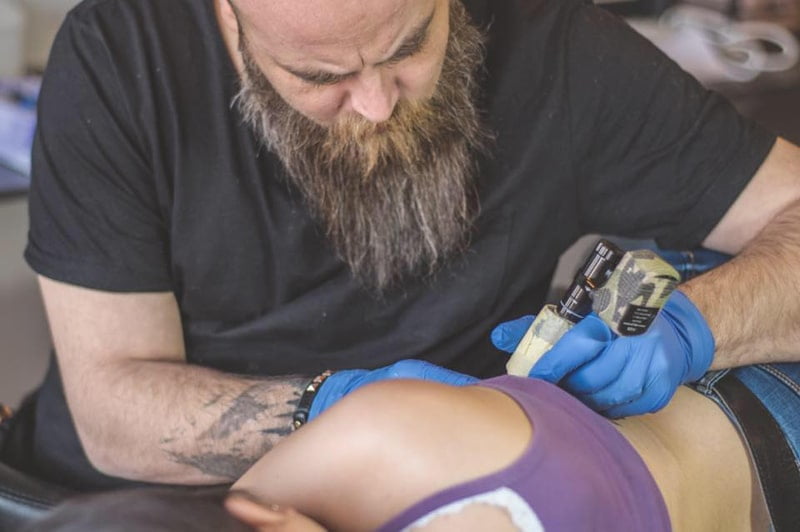 My suggestion to clients is to always invest in a high quality tattoo aftercare product. Because, in order for your tattoo to keep it vibrancy and bright colors for years to come, it's important to maintain it and nurture it with a product that will provide it with all the necessary protection from infection and impurities and which will reduce skin irritation and help the skin heal faster.
My recommendation to clients is to apply Tattoo Finisher immediately after tattooing, which will reduce redness, prevent skin irritation, clean and prevent infections. After that, the Suprasorb medical bandage that should cover the tattoo for 5-7 days, which protects it from external influences and accelerates the process of skin recovery. After that period, it is important that you give the skin and tattoo what they need to recover – a quality tattoo aftercare product.
You can find all these qualities in The Golden Spartan Aftercare Tattoo Butter, which best nourishes your tattoo. Applying a thin layer of The Golden Spartan Aftercare Tattoo Butter 3-4x a day will protect your tattoo against external influences and infections. It will hydrate the skin, reduces itching and irritation, and maintain the brightness and glow of a new tattoo. My personal recommendation is applying the tattoo butter for a minimum of 10 days, while a 30 day care routine is the best way to go.